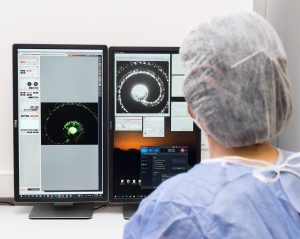 tagCTC-ENR is a high throughput, cost-effective microfluidic CTC enrichment platform.
Our technology benefits from the size difference between CTCs and peripheral blood cells, allowing antigen-independent, heterogeneous CTC collection.
Our propriety technique utilizes inertial microfluidics principles with a novel approach to enhance the distance between the streams of CTCs and peripheral blood cells, significantly improving the CTC enrichment performance. For details, please check our publication
Benefits of our technology
High recovery rate of intact and viable CTCs.
Enrichment is label-free and antigen-independent, ensuring capture of both epithelial and mesenchymal CTCs.
Rapid method (whole process takes <60 min/sample)
Captured CTCs are compatible with a wide range of downstream analyses including DNA/ RNA/ protein analysis, single cell analysis and functional analysis.
Applicable to be used for all solid tumors.
Automated, user-friendly operation.